In 4 months I'm going to be 26. It seems like just yesterday I was 20 years old, going to college in a different city and thinking that I had all the time in the world to be who I wanted to be.
If you're still in your early 20's, you won't know it yet, but time really does fly by so fast. It seems like I blinked once and my entire life has already flown by. Now I can feel myself getting older by the day. I can't drink more than a glass of wine without getting a hangover and I can't bounce back from eating piles and piles of junk food and candy.
This post may contain affiliate links which means I may receive a commission if you purchase products using my links (at no extra cost to you!) For more information read my Disclosure.
Over the years I struggled to figure out what I wanted, and now I feel like time is slipping away from me and I'm missing out on all the important things and doing the things that I want to do!
Whether you're 20 or 25, life will pass you by faster than you can imagine and it would be a shame to miss out on doing the things you truly want to do. Whether you've accomplished a lot, or you're just getting started, creating a bucket list of things to do is a great place to start!
1. Let Go of the Past
Life is short and it goes by quickly. You've only got one shot at this, and you're only hurting yourself by holding onto the past. Let it go! Let go of the bad things and the negative things that have happened. You will feel so free once you just let go and move on from the things holding you back and it's so liberating!
2. Travel Abroad
Whether you choose to live abroad (which I totally want to do!) or just travel abroad, it's an experience you don't want to miss out on! You will meet so many awesome people and have so many amazing experiences. Immersing yourself into different cultures is eye-opening, plus you'll always have great stories to tell people!
3. Learn a New Language
Learn French like you've always wanted to, or brush up on your Spanish skills. Learn a new language and use it to talk to other people! Language is a beautiful thing, and when you take the time to learn more than your native tongue, it's exciting to be able to cross those language barriers and communicate with people you might have never had the chance to meet!
4. Rekindle an Old Friendship
Whether you got into a bad fight or you just drifted apart over time, reach out to an old friend and meet up with them for coffee! Bring them back into your life and get to know them again. Your oldest friends are sometimes the best friends because you have all those years of memories.
5. Go Skydiving
Do something thrilling and exciting! Go sky diving and bring out your inner dare devil.
6. Adopt a Pet
#adoptdontshop Find a shelter animal who needs some love and care and rescue them. Adopted animals are the best kinds because they deserve the most love. Even Meghan Markle has adopted rescue animals!
7. Start a Business
What is something you've always wanted to do from a career standpoint? Open up that coffee shop you've been dreaming about since a child, or design those clothes and start your very own label. Follow your passions and invest in a business venture you've always wanted to pursue!
8. Go Camping
Go camping or glamping, whichever suits your fancy. Spend some time in the great outdoors with the bright, open sky and stars shining down on you. Sitting around the campfire and spending good, quality time without wifi and with your friends or family is so much fun and it's something you must do at some point in your life.
9. Travel Solo
There's something very liberating about traveling alone. My first solo trip was to Europe when I was 24 to see my brother and I had never gone anywhere alone before. It gave me a sense of confidence that I never had before and in a way it made me feel like I was more grown up.
10. Plant a Garden
Plant and grow a garden! Whether you want to grow beautiful flowers, fruits and veggies or even a rock garden, hone your green thumb and get down to your roots and mingle with Mother Nature.
11. Build Something
Whether your goals are to build a house or build something much smaller, put effort into creating something unique that you made yourself! When you work really hard on a project, it's much more satisfying to have something you made to be proud of.
12. Start a Blog
Starting a blog was one of the best decisions I have made! I've only been blogging for a few months, but it's been an incredible journey so far and I'm so excited to keep following this path! You won't regret starting a blog, AND you can start your very own today with Bluehost for only $3.95 a month! Super cheap and super worth it!
13. Go to a Ballet
Dancers put a lot of time and hard work into creating a beautiful show for you and it's so impressive to watch them use their talents. Dancing is a form of art. I saw a ballet in Germany and I almost cried a few times because it was just so incredible and the dancing was so beautiful.
14. Go on a Road Trip
Going on a long road trip is a must, and I don't mean taking a day trip a few hours away, I mean going on a long road trip hundreds and hundreds of miles away and exploring new cities and places. It's easy to have the perfect road trip, and you can even download this awesome FREE road trip essentials checklist I made for you!
15. Send a Message in a Bottle
Write a letter or a message about anything you want and send it away in a bottle in the ocean! Let your imagination run wild thinking about who is going to receive your message, where they are from, or even when it will be opened. It could be years from now! How cool would that be?!
16. Watch the Ball Drop from NYC on New Year's Eve
This would be an experience of a lifetime! Standing with a mug of hot cocoa (and maybe spiked with some liquor for extra warmth) and waiting in Time's Square for the ball to drop and kissing your s/o (or a mystery man) at midnight is something you have to do in your youth!
17. Go on a Girls-Only Trip
Hop on a flight with your best gal pals and head somewhere amazing where you can have an awesome girls-only trip with your bff's! A girl's weekend is always a blast, but especially when you get to take a vacay!
18. Go to a Drive-In Movie Theater
Find an old drive-in theater, stock up on some yummy snacks and enjoy a movie with your s/o or best friends. There's just something so nostalgic about watching a movie at a drive-in theater!
19. Go Skiing
Strap on some skis and hit the slopes! If you've never gone skiing before, take some lessons and spend some time in the fresh, powdery snow and then wind down after in a picturesque ski lodge with impeccable views of the mountains out the window!
20. Pay It Forward
Pay for the groceries of the person behind you in line or for the meal of the person next to your table. Do something nice and unexpected for a stranger just because you can. You never know who might be going through a rough time, and that could make their day.
21. Go Rock Climbing
Rock climbing is exhilarating! It's fun and gives you a sense of accomplishment when you get to the top because you've used nothing but your body and your strength.
22. Get a Tattoo
Get a tattoo of something cool, inspiring or special to you! I got my first tattoo when I was 16 years old, and then got a quote tattooed on my arm when I was 21. It says "A quien madruga dios le ayuda" and it means: God helps those who rise early. It's very special to me and is a constant reminder to keep pushing through and not to be afraid to ask for help when I need it.
23. Visit 30 U.S. States
Visiting different states is so much fun and gives you an excuse to take vacations and road trips! I've been to 23 so far. Only 7 more to go!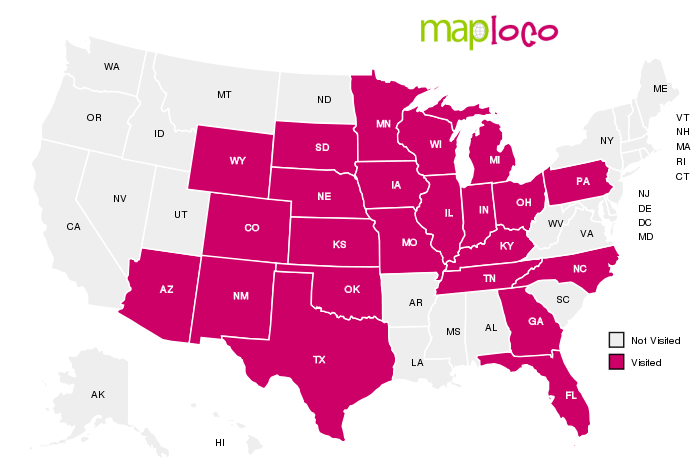 Create Your Own Visited States Map
24. Write a Letter to Yourself to Open in 10 Years
Write a letter to yourself about things you want to accomplish, things you've done, or just where you're at in your life right now. Save it to open in 10 years so you can see what things you've actually accomplished and remember what it was like to be in your 20's.
25. Volunteer for Charity
Volunteering your time to charity is very rewarding and it's always good to help someone who's in need. Whether you spend your time at a soup kitchen, a homeless shelter, or even building houses for those who have been affected by hurricanes or other natural disasters, do something for someone else because you're capable of doing it and people deserve a helping hand every now and then.
26. Take a Cooking Class
Sign up for a cooking class and learn a new skill! It's something you'll always have and you can always use your newly found talent later on in life to create an amazing meal for your family!
27. Plant a Tree
Save the earth and plant more trees! Plant a tree somewhere you can go back to visit and you can watch it grow over the years!
28. Clean Out Your Closet and Donate Old Clothes
Get a new wardrobe. You no longer need those yoga pants or Ugg boots in your 30's, so make a pile of things to get rid of and donate them to a place like St. Vincent de Paul, The Salvation Army, a homeless shelter or even the local women's shelter because those people are in need! It gives you a chance to get new clothes and help out those in need!
29. Go on a Cruise
Book an awesome cruise and spend a week or two out on the water with plenty of sun, good drinks and great company!
30. Write a Book
Write a book or self-publish an ebook! Create a beautiful work of fictional art and tell a story and share it with the world!
What are some things you would like to accomplish before you turn 30? Let me know in the comments!
Resources I Love:
Ibotta – This app is my go-to for saving money and earning cash back on purchases. It's simple, easy to use, and you can scan your receipts after purchase to earn money back on qualifying items. Redeem your savings to get gift cards or send the balance to PayPal and get the cash back! Sign up with my link to get $10 or use my referral code: mkcccdu when you sign up through the app.
FabFitFun – Delivers the season's best beauty, fashion, & fitness products straight to your doorstep. You'll receive over $200 worth of full size products (none of the trial size bs) for $49.99. New subscribers can get $10 off their first box when they enter code: SANTABABY at checkout! $200+ of full size products for $39.99? Do you even have to think about it?